We Ask The Questions
We deep dive into understanding ingredients, materials, methods of production, product packaging, business practices & labour ethics, so we can provide to you products that are sincere and value driven. We also follow a mindfully created 8 value framework called the Green Code. Each of our products are aligned with at least 1 of these principles. Read more about Our Green Code here.
We're Passionate About Learning.
We're here to build a socially responsible culture & community. It takes all of us. And if we're able to plant the seed of change in your mind, and provide you easy solutions for it, we consider our job done. We love to build understanding and dialogue about the key issues and solutions on living sustainably through events, discussions, articles and news. Log into our blog or tune in to any of our free educational sessions on key issues & practical tips to go green.
At Shift Eco, we ensure all your products reach you in minimal packaging materials. All our boxes are 100% compostable & recyclable, with use of minimal ink.
All our fragile items are packed in honeycomb kraft paper that is 100% compostable & recyclable.
In some cases, we have to use plastic tape in order to have the products reach you in perfect condition. (Unfortunately, paper tapes have their issues). But we are actively working towards going completely plastic free.
While we are working with brands that offer minimal or zero waste, compostable packaging, in some cases, we do make the exception for certain products that need some amount of plastic in their packaging to maintain its quality. However, this is only permitted if it is very necessary.
We urge you to put the boxes to good use, by reusing, composting, or recycling all packing materials.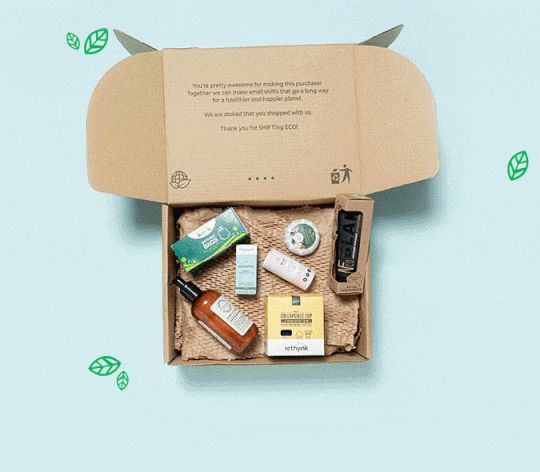 Something Missing?
We're evolving everyday and appreciate your feedback. While we make an earnest effort to bring to you the right products, we'd be delighted to hear from you!

Tell us about your experiences, feedback, impactful brands that you think should make it to our platform, or even drop in questions on any product or brand & we'd be more than happy to build dialogue with you!