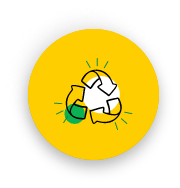 Reusable
Happy wallets, happy conscience. Reusing is the new way of life! These products help you minimize single use waste.
Buy Reusable Products Online at Shift Eco
Shift Eco is the foremost reusable product provider promoting sustainability and eco-aware living. Shift Eco seeks to reduce waste, reduce plastic usage, and contribute to a better future by offering diverse reusable items. In this article, we will look at the significance of reusable products, analyse the environmental benefits they provide, and highlight their role in waste reduction and sustainability initiatives. We'll also review Shift Eco's selection of reusable products, their characteristics, and their benefits. We will also share practical advice for adopting these eco-friendly solutions into daily living.
Reusable items are critical for decreasing waste and reducing our environmental impact. We can dramatically minimise our consumption of single-use products, which frequently end up in landfills or damage our oceans, by choosing for reusable items. This deliberate choice supports sustainability and contributes to preserving our world for future generations.
By replacing single-use items with reusable alternatives, such as bags, bottles, and food storage containers, we can decrease the demand for disposable products that contribute to landfills and marine pollution. You can also reduce office waste by shifting towards using sustainable products and engaging in sustainable practices at the workplace.
Range of Reusable Products Available
Reusable Bags & Totes
Shift Eco offers a wide range of reusable bags and totes that are ideal for supermarket shopping, carrying personal things, or even as fashion pieces. These eco-friendly alternatives to plastic bags are strong, fashionable, and help you reduce plastic waste.
Reusable Bottles
Shift Eco's glass water bottles and collapsible bottles provide a sustainable and handy method to remain hydrated on the go. These long-lasting alternatives reduce the need for disposable plastic bottles while keeping liquids cold or hot for longer periods.
Reusable Cutlery Sets
Shift Eco's cutlery sets are an eco-friendly option for on-the-go eating. We have various options such as collapsible cutlery sets and cutlery sets made of steel and bamboo. These practical cutlery sets sets help reduce the use of disposable plastic silverware, encouraging a plastic-free lifestyle.
Beeswax Wraps
Shift Eco's beeswax wraps are a sustainable alternative to plastic wraps and aluminium foil for food storage. These wraps, made of organic cotton infused with beeswax, are reusable and biodegradable, providing a reusable and biodegradable option for keeping food fresh while decreasing plastic waste.
Silicone Food Storage Bags
Shift Eco's silicone food storage bags are a versatile and environmentally friendly food storage option. These reusable silicone bags are secure, leak-proof, and ideal for packing lunches, snacks or keeping leftovers.
Reusable Menstrual Pads & Cups
Shift Eco also recognises the rise in waste due to traditional menstrual products. That is why we offer reusable menstrual pads and panty liners. These are highly observant and made from sustainable bamboo charcoal cloth. Our menstrual care range consists of organic products such as sanitary pads, tampons, and more. We also offer menstrual cups which are a great alternative to cutting down your monthly waste.
Reusable Personal Care Products
We offer various products such as reusable cotton pads to cleanse your face, or reusable toothbrushes with detachable bamboo heads and reusable razors that can help you manage your daily waste in the bathroom.
Reusable Cleaning Products
We also offer various other reusable home products like bamboo kitchen towels, refillable cleaning solutions and dish cloths, that kept you minimise your waste in the kitchen and home.
Why Opt for Our Products?
High-Quality and Durable Materials:

Shift Eco prioritises high-quality materials to ensure their goods are long-lasting and sustain daily use.

Eco-Friendly and Non-Toxic:

All Shift Eco products are created from environmentally friendly materials devoid of toxic chemicals and safe for both consumers and the environment

Simple to Clean and Maintain:

Shift Eco's reusable eco-friendly products are designed for convenience and ease of upkeep. They are easy to clean and maintain
Benefits of Choosing Reusable Products from Shift Eco
Reduced Single-Use Plastic Waste:

Choosing reusable items cuts the consumption of single-use plastics greatly. This helps to reduce plastic waste, which helps to protect our seas, wildlife, and ecosystems.

Long-Term Cost-Effectiveness:

While reusable products may have a greater initial cost, they are more cost-effective in the long term. Investing in long-lasting things that can be used frequently saves money by removing the need to acquire disposable alternatives regularly.

Trendy Designs:

Shift Eco recognises the value of style and provides reusable products with trendy designs. Our products enable people to make environmentally friendly decisions without sacrificing attractiveness. Our collapsible bottles and cups keep you trendy and stand out from the crowd while being sustainable.
How to Incorporate Reusable Products into Daily Life
Incorporating reusable products into your daily life is easier than you think. Here are some practical tips:
Using Reusable Bags for Grocery Shopping:

Keep Shift Eco reusable bags in your car or in your purse so you always have them on hand when shopping. This eliminates the need for single-use plastic bags while also reducing plastic trash.

Carrying a Reusable Water Bottle:

Make it a habit to always carry a Shift Eco stainless steel or collapsible water bottle with you. This will keep you hydrated while minimising your reliance on disposable plastic water bottles.

Using Reusable Food Storage Containers for Lunch:

Instead of using throwaway containers, use Shift Eco's food storage options such as silicone food storage bags or beeswax wraps. Our plastic-free products preserve food while reducing plastic waste.

Using Reusable Cutlery Sets:

Bring Shift Eco's bamboo cutlery sets with you while eating out or ordering a takeaway. You eliminate single-use plastic utensils and support a plastic-free lifestyle using reusable cutlery.

Using Reusable Coffee Cups:

Carry your coffee cup with you if you purchase your daily fix at a café and request then to fill up your personal cup, rather than the disposables. Some coffee shops even offer discounts if you bring your own reusable cup!
Why Choose Us?
In addition to a wide range of reusable products, Shift Eco is committed to sustainability and a better future by providing eco-friendly, plastic-free personal care and home care items. We also have a wide range of office supplies, pet care, and baby care products. By choosing Shift Eco, you support a brand dedicated to reducing waste, promoting eco-friendly practices, and raising awareness about the importance of reusable items. Shift Eco for Business also provides services like office review and training programs and encourages people and organisations to participate in environmental initiatives, making it a trusted partner on your sustainable journey.
Shift Eco's selection of reusable home products provides a long-term and practical answer for reducing waste and living an environmentally responsible lifestyle. You may actively contribute to trash reduction and sustainability by using reusable bags, bottles, cutlery sets, beeswax wraps, and silicone food storage bags. These items are not only eco-friendly, but they are also cost-effective in the long run. Incorporating these reusable items into your daily life is a small but significant step towards a greener future. Choose Shift Eco today to join the drive towards a more sustainable and plastic-free society.
FAQs:
Q. How do I clean my reusable bags and totes?
A. Shift Eco's reusable bags and totes can be easily cleaned by handwashing with mild soap and water. Some products may also be machine-washable—please refer to the care instructions provided
Q. Are the stainless steel water bottles insulated?
A. Yes, Shift Eco's stainless steel water bottles are insulated, keeping your beverages cold or hot for extended periods.
Q. Are the beeswax wraps suitable for all types of food storage?
A. Shift Eco's beeswax wraps are suitable for various types of food storage, including covering bowls, wrapping fruits and vegetables, and preserving sandwiches or snacks. However, they are not suitable for raw meat or hot items.
Q. Are reusable menstrual pads safe to use?
A. Yes, reusable pads are a very hygienic option. You can use it again and again. Just clean it with lukewarm water and a little cleaning powder. Reusable pads come with adjusting buttons and are highly absorbent.