The Planet Friendly Office is an initiative to support offices to shift to greener practices.
Shift Eco, has partnered with the The Umbrella Institute, to offer you an office review that will help you -
Review Your Current Practices
Understand Current Challenges & Opportunities
Get Tailored & Easy to Implement Solutions
Why Conduct this Review?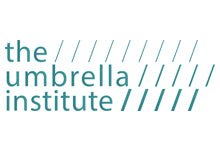 IMPROVE
CONSUMPTION

Reduce overall consumption By buying better quality and by increasing efficiency.

BUILD
CULTURE

Boost office culture by creating a connect with sustainability amongst employees.

SET
PRACTICES

Endorse sustainable practices by setting processes and precedents in office.

IMPROVE
PROCUREMENT

Improve procurement methodologies by adding a green filter to regular office purchases.

MANAGE
WASTE

Manage office waste in a responsible and efficient manner.
Our Methodology
The Green Seed Framework
The Green Seed Framework focuses on the key aspects of the organisation that contributes directly to reducing your companies carbon footprint.
The framework has 5 key pillars and is executed by a mix of questionnaires for concerned departments, an office review by our consultants and specific management meetings.
The findings of the 5 elements of the framework, help us provide you with clear and actionable recommendations to help make your office planet friendly in the short and long term.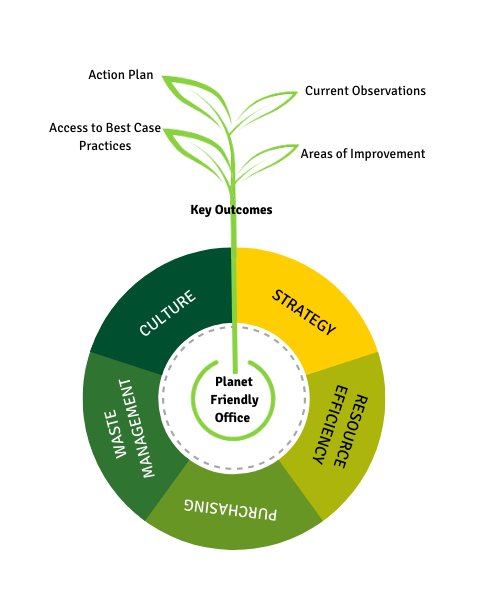 Understand The Green Seed Framework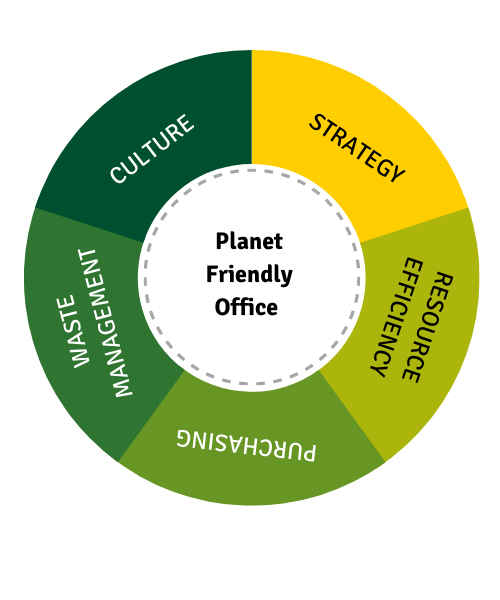 STRATEGY
Review an organization's mission, vision, reporting & KPI's alignment to sustainability
RESOURCE EFFICIENCY
Understand your current utilization of electricity and water
PURCHASING
Analyse purchasing policies - quality, quantity, transport & circularity
WASTE MANAGEMENT
Review current processes of waste segregation and recycling
CULTURE
Evaluate employee interventions that build sustainable education & awareness
Outcomes of the Planet Friendly Review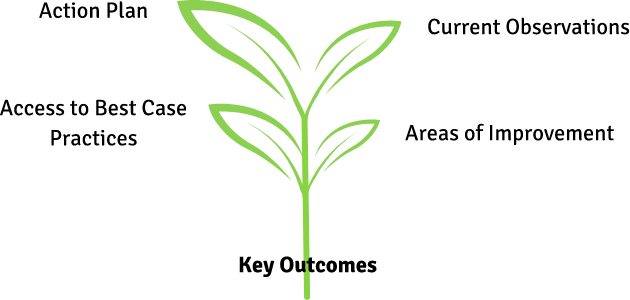 The outcomes of the Planet Friendly Review will include the below
Identify where the organization currently stands
Key challenges with respect to sustainability
Recommendations to transition to a "Green office."
You will also be provided with recommended action steps to take in the short and long term to be more planet friendly.
We will also serve as a one-stop-shop and support organizations with the implementation of the possible points of improvement highlighted by this review.
Interested To Know More?
Contact Us Now
Planet-Friendly Office Review
Did you know that commercial and industrial buildings account for 40% of the world's energy consumption? Is it a shock to any of us? We have been in a place where either office are too cold to sit in or too hot as per the weather. With climate change becoming a pressing issue, adopting sustainable practices, especially in the workplace, is essential. 
At Shift Eco, we are committed to creating environmentally friendly workplaces and promoting sustainable practices. In addition to our selection of eco-conscious supplies and personal and home care products, it is essential to reduce our carbon footprint to protect the planet for future generations. 
Understanding carbon footprint of your business can take a lot of work. That is why we also offer a service known as office review. We have partnered with The Umbrella Institute to provide a planet-friendly office review. This initiative aims to encourage offices to switch towards greener practices. We review your current practices and consumption. After evaluating your challenges and opportunities, we offer a solution for improving your current practices.
Who Can Take Planet-Friendly Office Review
The Planet-Friendly Office Review suits all businesses/corporations looking to improve their environmental impact. Whether a small startup or a large corporation, the review program can help you adopt sustainable practices and reduce your carbon footprint. Our review aims to direct your workplace practices toward sustainability. 
Office Review Purpose
Shift Eco's Planet Friendly Office Review assists businesses in evaluating their sustainability and environmental impact. By analysing an organisation's energy consumption, waste production, and carbon footprint, the assessment provides valuable insights and suggestions for reducing their environmental impact and becoming more sustainable. Here's an overview of what the review entails:
Strategy:
The first step is to develop a sustainability strategy that aligns with your business goals. This strategy includes identifying areas for improvement and setting targets for reducing carbon footprint of your business.
Resource Efficiency: 
This includes implementing measures to improve the efficient use of lighting, water, and air conditioning in the workplace. Some examples include using automated sensors to turn off lights and air conditioning when rooms are not in use, installing a water filtration and aerator systems to reduce water usage, and using films on windows for temperature maintenance.
Purchasing: 
This involves considering the environmental impact of products and materials used in the workplace and making sustainable choices when possible. This could include sourcing products from local suppliers to reduce transportation emissions, choosing materials with a lower carbon footprint, and implementing circularity practices to reuse and recycle materials.
Waste Management: 
This includes strategies to reduce waste and promote recycling in the workplace. This could include implementing a waste segregation system, encouraging employees to bring reusable containers and bags, and promoting recycling programs.
Culture: 
This involves creating a workplace sustainability culture through office practices and employee engagement. This could include forming green teams to identify and implement sustainable practices, training employees on sustainability topics, and adopting better practices like going paperless and reducing single-use plastics.
After the review, Shift Eco provides businesses with a comprehensive report outlining a strategy for enhancing their sustainability efforts. The report contains recommendations for each review's five main areas, observations, and best practices. 
The Outcome of the Review
The outcome of the Planet-Friendly Office Review is an action plan that includes short-term and long-term solutions for improving sustainability in the workplace. The review also identifies areas for improvement and best practices to adopt. Observations and feedback on how to make sustainable choices are also included.
Action Plan: We provide organisations with an action plan about how they can achieve their sustainability goals. These can be long-term or even short-term action plans.

Short-term solutions include reducing energy usage, promoting the use of reusable cups and water bottles, and implementing a waste segregation system.
Long-term solutions include investing in solar panels, sourcing environmentally-friendly office supplies, and developing a sustainable transportation plan.

Areas of Improvement: The review identifies several areas for improvement, including energy efficiency, waste management, sustainable procurement, and employee engagement.

Best Practices: We also suggest some of the best practices to improve the organisation's environmental sustainability, such as using LED lighting, switching to environmentally-friendly cleaning products, and providing reusable mugs and cups to employees.
Observations: The review identified several areas where the company is already doing well, such as its use of natural light and its efforts to reduce paper usage. We also note down areas with room for improvement, such as reducing single-use plastics and improving recycling practices.
Other services offered by Shift Eco
Besides this office review, Shift Eco offers various other services like office supplies, corporate gifts and training programs. Let us take a look at these services:
Office supplies are an essential component of an eco-friendly workplace. Shift Eco carries environmentally friendly stationery such as repurposed paper, repurposed pens, and pencils manufactured from sustainable materials. Shift Eco's eco-friendly office stationery is ecologically responsible and high-quality. 
Giving gifts to clients and employees is a great way to show that you care about the environment. At Shift Eco, we have a variety of sustainable corporate gifts, such as eco-friendly stationery, reusable water bottles, and tote bags made from sustainable materials. 
The Shift Eco planet-friendly office review provides companies with a comprehensive strategy for making their workspaces green and viable. The research includes every aspect of an eco-friendly workplace, including eco-friendly supplies, equipment, furniture, and accessories. 
The review provides realistic guidance for companies on creating a green office setting that reduces their carbon impact and provides workers with a pleasant and healthy workplace. Businesses can assist the climate and encourage others to do the same by following the Shift Eco planet-friendly office review recommendations. 
FAQs:
Q. What is the framework of planet-friendly office review?
Ans. A planet-friendly office reviews the organisation's culture, whether they are following sustainable practices, waste management strategies, and expenditure. The main objective of the review is to understand the organisation's environmental impact. For example, approaches like not using plastic bottles, using sustainable transport, and many more could contribute to an environmentally friendly workplace practice. 
Q. How does a planet-friendly office review benefit a business?
Ans. Planet-friendly office reviews offer various benefits, like reducing a company's carbon footprint, saving money, and attracting green consumers. Ecological practices create a healthy, pleasant workplace, boosting employee mood and efficiency. In addition, businesses can increase their social responsibility and market position by committing to sustainability.
Q. Is Shift Eco's planet-friendly office review suitable for all businesses?
Ans. Yes, the review is sustainable for all businesses. Any company can lower its carbon impact by adopting eco-friendly practices. A healthy and sustainable workspace can save money, boost staff mood and efficiency, and better a company's image.
Q. How can a business implement the recommendations from a planet-friendly office review?
Ans. After conducting a planet-friendly office review, companies can create a sustainability plan and give tasks. The program should have aims, deadlines, and verifiable results. To promote sustainability, companies should offer sustainability training for employees. It is crucial to evaluate and update sustainability practices regularly.