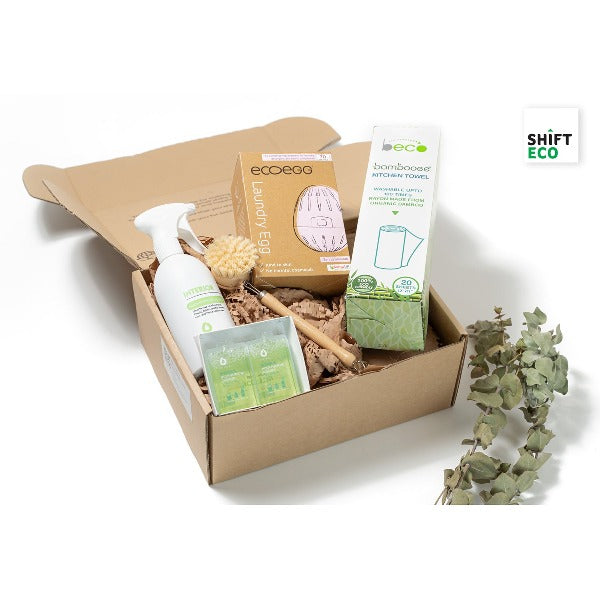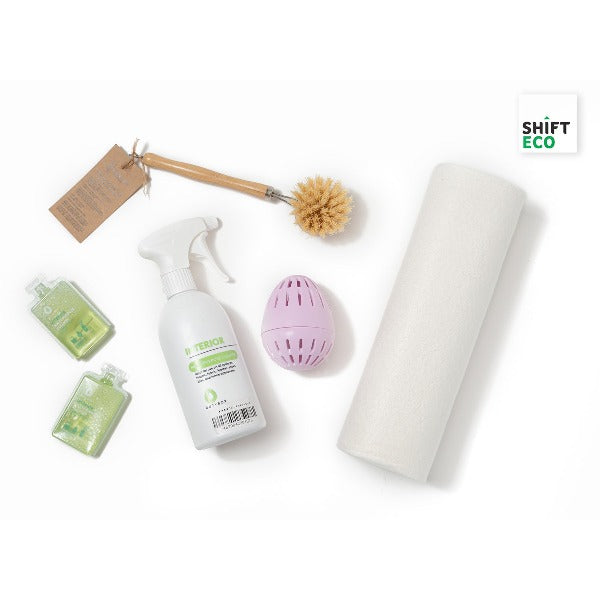 Liquid error (sections/main-product line 87): video_tag does not support ImageDrop Liquid error (sections/main-product line 87): video_tag does not support ImageDrop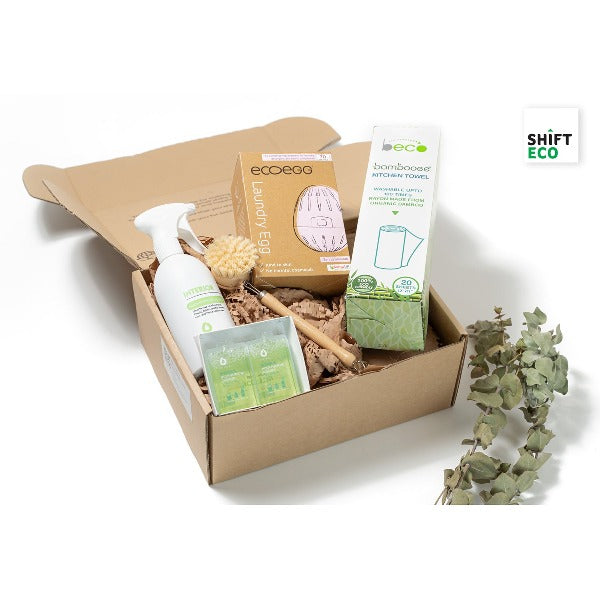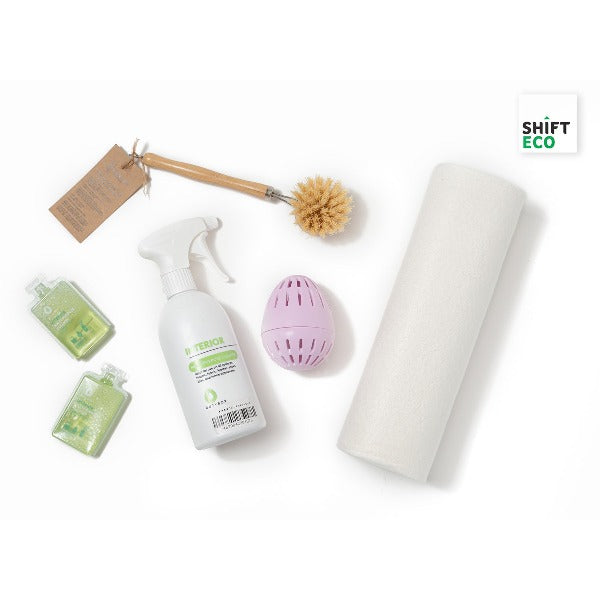 Liquid error (sections/main-product line 109): video_tag does not support ImageDrop Liquid error (sections/main-product line 109): video_tag does not support ImageDrop
Regular price
Sale price
AED 195.00
Unit price
per
Free standard shipping on all orders above AED 100
Take baby steps towards a greener home with this kit. Consisting of handpicked, clean goodies that are good for your home and the planet, this basket makes for a thoughtful gift too!
This kit includes:
• Ecogg Laundry Egg - Spring Blossom - (70 washes)- The Innovative Vegan-friendly Laundry
- Replaces laundry detergent and fabric conditioner
- Contains no harmful chemicals, just natural minerals
- Suitable for sensitive skin
- Helps to reduce single-use plastic,
- Kind to your pocket, just AED 1 per wash

Awarded the rating of 'excellent' by Dermatest
Has held Allergy UK's 'Allergy Friendly Product' award since 2011

The ecoegg Laundry Egg is a unique and innovative laundry washing system that cleans clothes effectively,... Read More
Free standard shipping on all orders above AED 100
Take baby steps towards a greener home with this kit. Consisting of handpicked, clean goodies that are good for your home and the planet, this basket makes for a thoughtful gift too!
This kit includes:
• Ecogg Laundry Egg - Spring Blossom - (70 washes)- The Innovative Vegan-friendly Laundry
- Replaces laundry detergent and fabric conditioner
- Contains no harmful chemicals, just natural minerals
- Suitable for sensitive skin
- Helps to reduce single-use plastic,
- Kind to your pocket, just AED 1 per wash

Awarded the rating of 'excellent' by Dermatest
Has held Allergy UK's 'Allergy Friendly Product' award since 2011

The ecoegg Laundry Egg is a unique and innovative laundry washing system that cleans clothes effectively, using two types of natural mineral pellets encased in a recyclable egg.
Containing no harmful chemicals and kind to your skin, the ecoegg Laundry Egg completely replaces laundry detergent and fabric conditioner, giving you a kinder laundry solution. The mineral pellets in the ecoegg Laundry Egg are perfect for people with sensitive skin, are non-biological and do not contain any petrochemicals, enzymes, bleaches, phosphates, parabens, SLS/SLES, palm oil or microplastics.

• Dutybox Eco-friendly Interior Cleaner Concentrate Set - This everyday, all-purpose cleaner is specially formulated to clean dirt, grease, oil, grime and fingerprints on most household surfaces, such as ceramic, chrome, stainless steel, glass, wood, polymeric coating, textile, leather, laminate and linoleum flooring. Has antibacterial properties. Forming a dirt-repelling barrier that makes cleaning easier over time.

DutyBox is the innovative concept of highly concentrated household chemicals that come in 50 ml capsules. One capsule replaces a whole bottle of a similar mass market product.

• Includes 1 bottle and 2 Capsules Refills (1 capsule 50 ml = 0.5 L of cleaning product)
• Aroma: Fruity
• All DutyBox formulas are certified by EPA.
• Capsules & bottles are recyclable. The bottles are made of quality durable materialsand can be reused over and over again.

• Berdde Long Handle Dishwashing Brush - Sisal Fibre - Made of natural materials such as bamboo and sisal makes this brush is 100% biodegradable. Great for dishes, vegetables or household cleaning.The bamboo head is easily replaceable.

• Beco Reusable Bamboo Kitchen Towel - These kitchen towels are made from bamboo plants which is a fast growing grass giving a sustainable, natural alternative to a traditional tree. Wash and reuse each sheet up to 100 times. It can be machine washed too.

These super-absorbent single ply bamboo sheets are strong, durable & biodegradeable.

One Beco reusable towel roll = 20 ordinary paper rolls. That's up to 6 months of paper towels!


Show less